Loros bereavement support hub opening 2nd August 2023.
Elliott Hall Albion Street South Wigston, every Wednesday 11.30 am -1 pm.
No booking required Over 18s only.
Not exclusive to Loros.


Celebrating Armed Forces Day
Sunday 25th June Elliott Hall for Youth & Community along with the Legion Outriders and Oadby & Wigston Council by putting on an cream tea event for the community and the boroughs veterans. The event was a great success, with veterans visiting from all over the borough, enjoying their free cream tea, listening to old time music, enjoying seeing the displays from the old days while talking to ex-service men from different generations.
Pulling Bows For Community Hub

Massive thank you to everyone at Leicester Ancient Order of Foresters Archery Club who ran a Dawn till Dusk event last Saturday 17th June to support the community hub. It was a fantastic day, seeing so many people dress up for the occasion. They raised amazing grand total of £415 for Elliott Hall.
We can not thank you all enough for supporting us and the local community we support.
Asda Foundation Supporting Elliott Hall.

Asda Foundation supports Elliott Hall. Youth & Community Building.
I was thrilled to visit Elliott Hall. Youth & Community Building with our store manager Geoff and present them with an Asda Foundation Spaces & Places grant for £22,300.
The Asda Foundation recently surprised 31 different community groups across the UK with the news their grant had been successful including Elliott Hall.The grants totalling to over £600,000 range between £10,000 and £25,000 with the aim of improving community spaces in local communities across the UK. The funding will go towards replacing their old windows for new, more energy efficient one, helping to keep the heat in and make bills more affordable. Elliott Hall was opened in 2017 by Rob,Ruth & Carl who wanted to give something back to the community. It's a safe warm haven for anyone in the community to drop in, have a cuppa and a chat and join one of the many groups on offer. Everyone is welcome.
– Beth, Asda community champion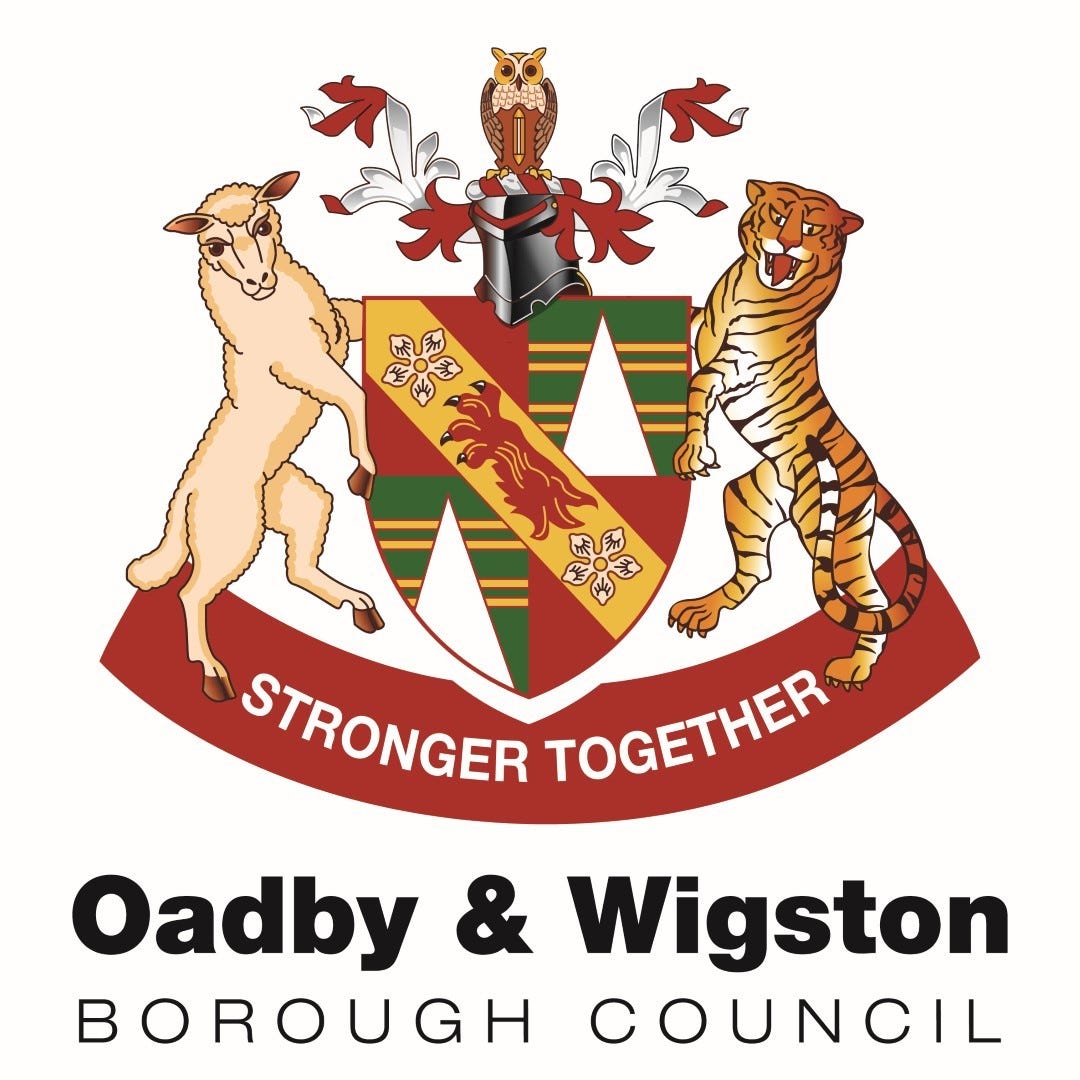 Talk To The Council
Face to face appointments with Oadby & Wigston council will be introduced in South Wigston.

Oadby & Wigston Borough Council (OWBC) customers will soon be able to request face to face appointments in either Oadby, Wigston or South Wigston.
The opportunity to book appointments comes as the council looks to enhance its customer service offer after listening to residents that completed a customer experience consultation at the end of 2022.
One of the key findings was that while the majority of customers prefer to contact the council by phone, email or by using the website, there is still a need to meet some customers face to face. From Monday 5 June, customers will be able to book appointments by telephone and then attend their allotted slot at the following locations:

Elliott Hall, South Wigston on Tuesdays
between 9 am and 12 pm
Trinity Methodist Church, Oadby on Wednesdays
between 10 am and 1 pm
King's Centre, Wigston on Thursdays
between 1 pm and 4 pm.

Visitors to the council's appointment hubs must have a pre-booked appointment.
These can be made by calling the council's customer service team on 0116 2888961.
Ruth Elliott
The world has lost a wonderful women but Heaven has gained an angel.
Our beloved Ruth Elliott has gone home to the Lord – she passed away on Friday 28th April 2023 after a short illness.


Message from family:
We wish to thank to all who attended Ruth's funeral on Tuesday 16th May at St Thomas Church and all those that made it a successful day.
Thanks again Rob and boys.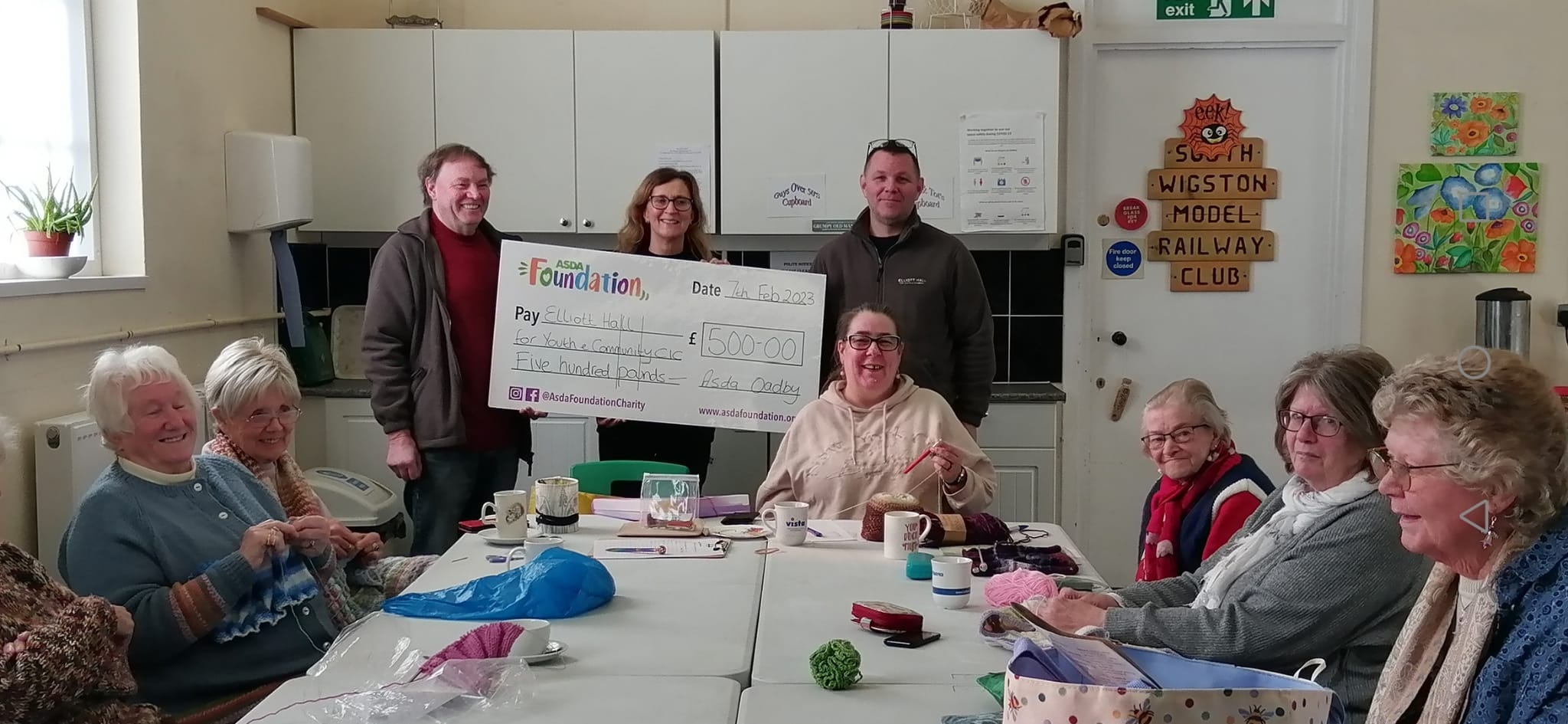 We wish to thank Asda Foundation Oadby for their kind support through their Foundation by donating £500 for supporting the activities we run for the community at Elliott Hall. Thank You.
Image was taken with our Chit, Craft,Cake group which meets every Tuesday morning, with Asda Community Champion Beth, as well as Rob & Carl from Elliott Hall.
Please read Asda Foundation press release below