Below are news of what have either happened or going to happen at
Elliott Hall for Youth & Community
Postive Steps
New support groups starting Friday 10th December from 1.30-3.30pm at Elliott Hall supporting anyone who needs support with their mental health and wellbeing.

The venue offers a safe space to chat and offer support and advice
Super Stars Football Starting Jan 24
A new football club will be starting at Elliott Hall on Wednesday 6th Jan 2024 for children aged 2-5yrs.
Open to boys and girls starting 4.40pm till 5.25pm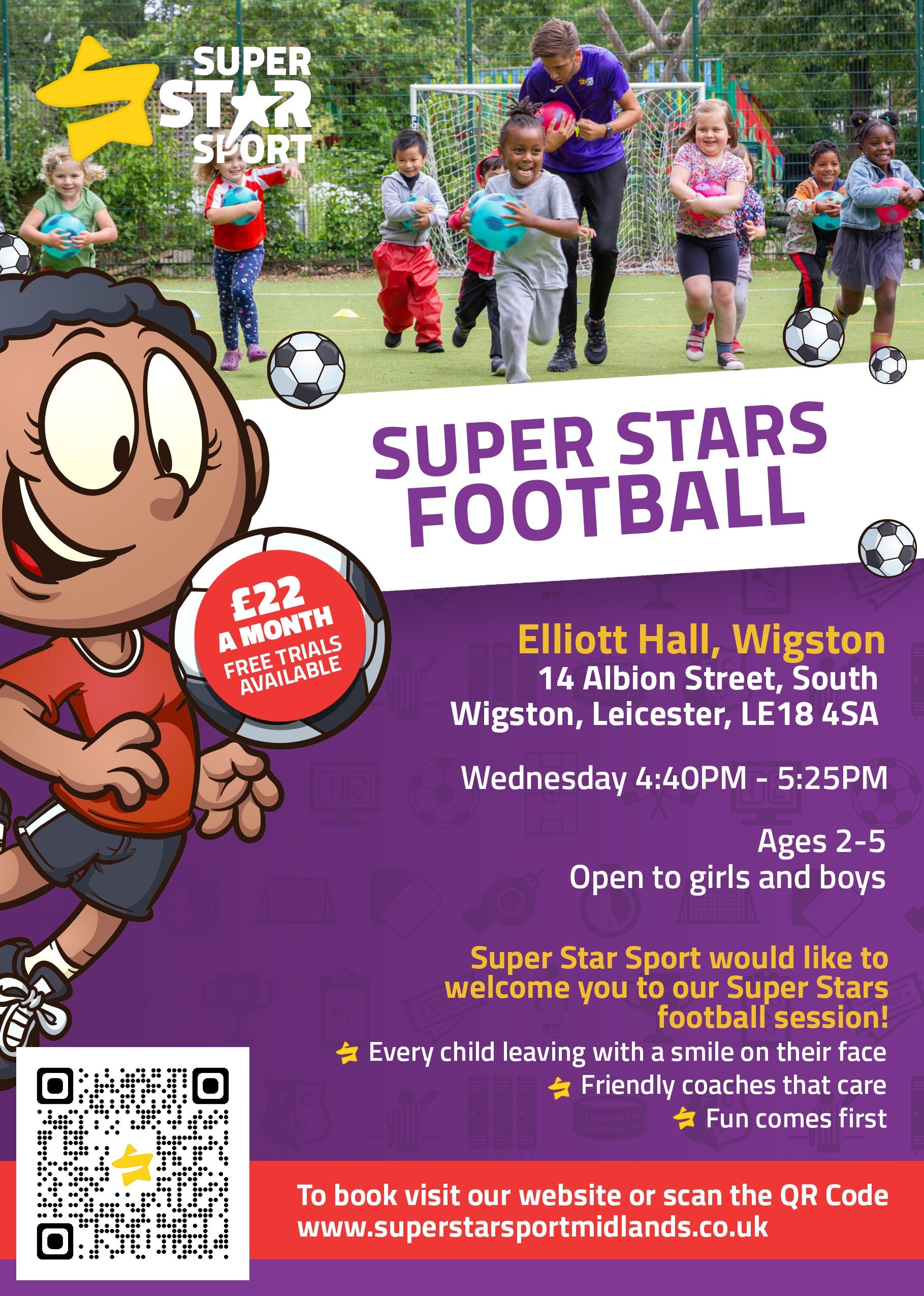 Lego Club New 2024
A new lego club start on Monday 15th Jan 2024 for anyone over the age of 6 who enjoy Lego. The club will be fun, educational, learning to work as teams which will inreturn make new friend. Each week will be different.
Cost £3.00 per child per session
We Are Undefeatable
Elliott Hall is being supported by Active Together We Are Undefeatable fund to support our work we do for the community. We Are Undefeable is a major campaign that supports the 15 million people who live with one or more long-term health conditions in England
We Are Undefeatable is a movement supporting people with a range of long term health conditions, developed by 15 leading health and social care charities and backed by expertise, insight and significant National Lottery funding from Sport England. It's purpose is to support and encourage finding ways to be active that work for you and your health condition.
Active Together proudly support We Are Undefeatable, working closely with National and local partners to activate the campaign throughout Leicestershire, Leicester and Rutland. We are continuing to explore new ways that support and encourage local residents to move more, their way.
Elliott Hall Hosts Veteran Breakfast
What amazing event organised by OWBVS & Elliott Hall who hosted their first full English breakfast for veterans and serving personal in the Armed Forces. It was great to see over 35 veterans & Armed Forces personal attending as well as the Vice Lord -Lieutenant Col. Murray Coalville, Cllr Samia Haq (Leader of Oadby and Wigston Council) Cllr Bill Boulter ( chairman of Ames forces committee) Cllr Carl Walter & Cllr Zuffar Haq. The event was supported byOadby & Wigston Borough Council,Pilgrim Bandits Charity.
Our next veteran breakfast will be taking place on February 17th 2023 in Oadby RBL.
Rememberance Morning
Saturday 11th November saw Elliott Hall & Oadby & Wigston Borough Veteran Support run a rememberance morning with sausage and bacon rolls. At 11am we had bugle playing followed by 2 min silence with wreath laying. Nice to see over 60 residents attend with veterans from all over the borough attend.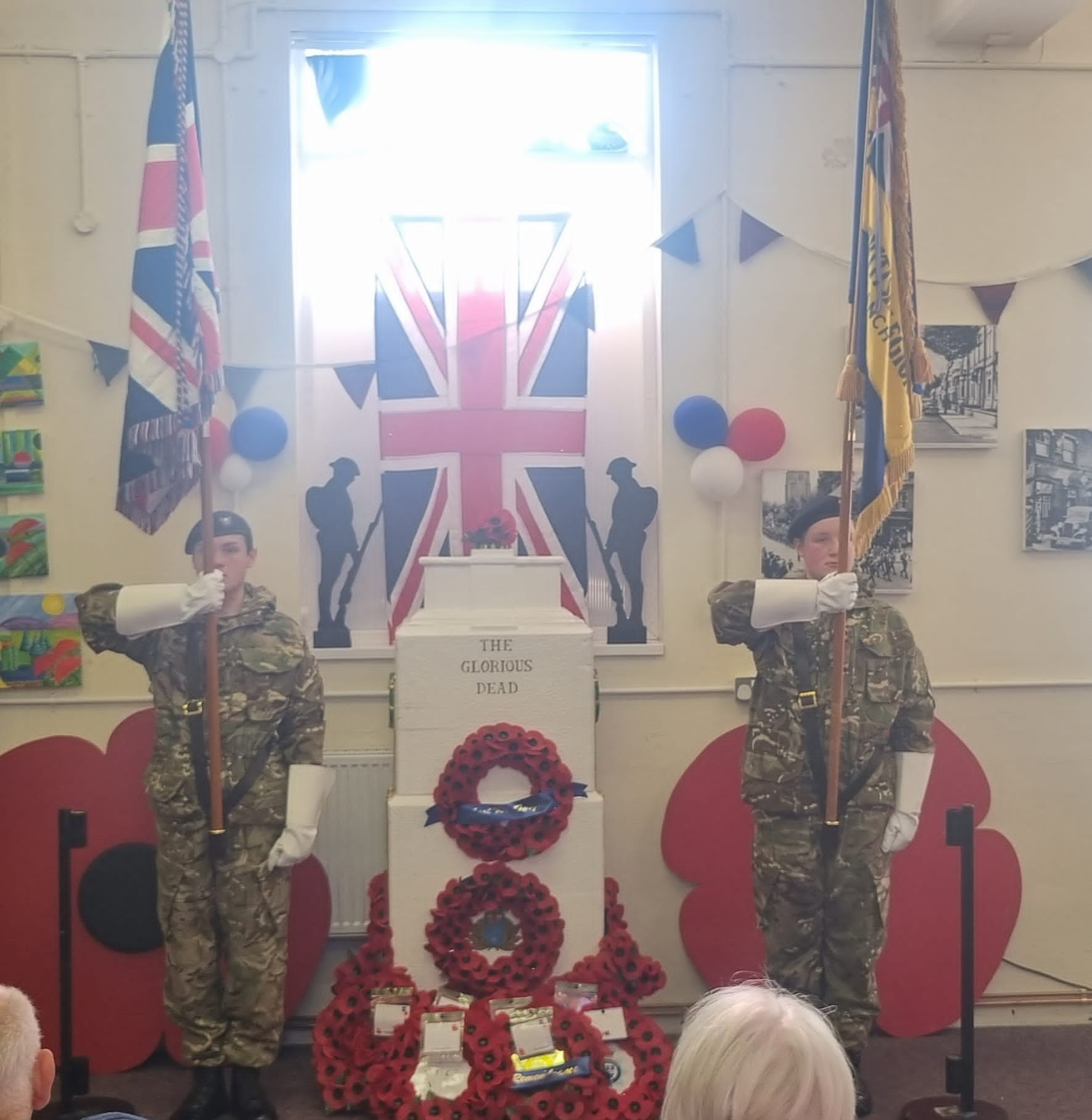 National Lottery Funding For Community Centre
Elliott Hall For Youth & Community (CIC) celebrates after receiving £67,000 of National Lottery funding to support the service it offers to the local community
A local community center Elliott Hall for Youth & Community is today celebrating after being awarded £67,000 in National Lottery funding to support its work within the local community. The community center, based in South Wigston, Leicestershire and they will use the money to run different activities for the local community, supporting health & well-being and isolation. To provide support sessions for those within the community of the borough of Oadby & Wigston.
Elliott Hall has been running since 2017 and is run by volunteers. It was founded by Rob & Ruth Elliott & Carl Walter after they realised that the community was struggling to provide different groups which would support the local community due to no premises.
Elliott Hall now offers groups that support all ages throughout the week, like Step Out Youth group where children aged 8-16 can join in with activities such as arts & crafts, cooking, woodwork, and playing games while learning new skills and having fun. The center also offers gentle movement classes, bereavement support, woodwork, art abd groups.
The new funding from The National Lottery Community Fund, which distributes money raised by National Lottery players for good causes and is the largest community funder in the UK, will see sessions expanded, meaning that the number of participants will be able to increase.
Rob Elliott, says: "We're delighted that The National Lottery Community Fund has recognised our work in this way. Now, thanks to National Lottery players we will be able to press on with our plans to broaden the range of support and groups that will be available to local support our local community This is important because it helps both the young and older people build relationships with others facing similar challenges and to create their own supportive circles of friends and peers."
Service user says: "I attend Elliott Hall three if not four times a week, attending different activities they offer, this is amazing place, learning new skills, making new friends all at the grand age of 86. The team always make you welcome here, kettle is always on and an ear to listen, this is South Wigston best kept secret"
National Lottery players raise over £30 million a week for good causes across the UK. Thanks to them, last year The National Lottery Community Fund was able to distribute over half a billion pounds (£615.4 million) of life-changing funding to communities.
To find out more visit www.TNLCommunityFund.org.uk
Ends
Well-being Boat Trip
In October we took two groups on the canal to support their health & well-being. They left Leicester marina nr Thurmaston traveling along the river Soar and the Grand Union Canal, enjoying refreshments, peace, wildlife and scenery. We wish to thank Canal and River Trust and the The Baldwin Trust for organising this. We hope to be running these again next year
Vote For Us
Elliott Hall for Youth & Community calls out for votes to get a share of Tesco's Stronger Starts fundElliott Hall for Youth & Community are bidding for a cash boost from the Tesco Stronger Starts initiative. Tesco works with community charity Groundwork to run its community funding scheme, which sees grants of up to £1,500, £1,000 and £500 awarded to local community projects, with a particular focus on children and young people. Three groups in every community have been shortlisted to receive the cash award and shoppers are being invited to head along to Tesco stores to vote for who they think should take away the top grant.Elliott Hall for Youth & Community is one of the groups on the shortlist.Elliott Hall supports the local community by providing a safe place to take part in variety of activities for all ages and abilities Voting is open in all Tesco stores from early October until January 2023.Customers will cast their vote using a token given to them at the check-out each time they shop.Stores you can vote at :
Aylestone Lane Express, LE18 1BD
Narborough Express, LE19 3WY
Leicester ForestExpress, LE3 3JT
Aberdale Rd Leics Express, LE2 6GB
South Wigston,LE18 4SE
Rowley Field Leicester Express, LE3 2FU
Leicester Saffron Express,LE2 6UG
Leicester Evington, LE5 4WELeicester
Lutterworth Express, LE2 8PH
Countesthorpe Express, LE8 5RN
Thank You For Your Support
New Dementia Support Group
A new group to support those affected by dementia incluing their family members and carer's. We will first be running two taster sessions in November & December. For more information please conact us by clicking here
New lego club coming to Elliott Hall starting Monday 15th January 2024. Open to children aged 6-16 yrs. Cost £3.00 per child.
To register your interest please click link below


Celebrating Armed Forces Day
Sunday 25th June Elliott Hall for Youth & Community along with the Legion Outriders and Oadby & Wigston Council by putting on an cream tea event for the community and the boroughs veterans. The event was a great success, with veterans visiting from all over the borough, enjoying their free cream tea, listening to old time music, enjoying seeing the displays from the old days while talking to ex-service men from different generations.
Pulling Bows For Community Hub

Massive thank you to everyone at Leicester Ancient Order of Foresters Archery Club who ran a Dawn till Dusk event last Saturday 17th June to support the community hub. It was a fantastic day, seeing so many people dress up for the occasion. They raised amazing grand total of £415 for Elliott Hall.
We can not thank you all enough for supporting us and the local community we support.
Asda Foundation Supporting Elliott Hall.

Asda Foundation supports Elliott Hall. Youth & Community Building.
I was thrilled to visit Elliott Hall. Youth & Community Building with our store manager Geoff and present them with an Asda Foundation Spaces & Places grant for £22,300.
The Asda Foundation recently surprised 31 different community groups across the UK with the news their grant had been successful including Elliott Hall.The grants totalling to over £600,000 range between £10,000 and £25,000 with the aim of improving community spaces in local communities across the UK. The funding will go towards replacing their old windows for new, more energy efficient one, helping to keep the heat in and make bills more affordable. Elliott Hall was opened in 2017 by Rob,Ruth & Carl who wanted to give something back to the community. It's a safe warm haven for anyone in the community to drop in, have a cuppa and a chat and join one of the many groups on offer. Everyone is welcome.
– Beth, Asda community champion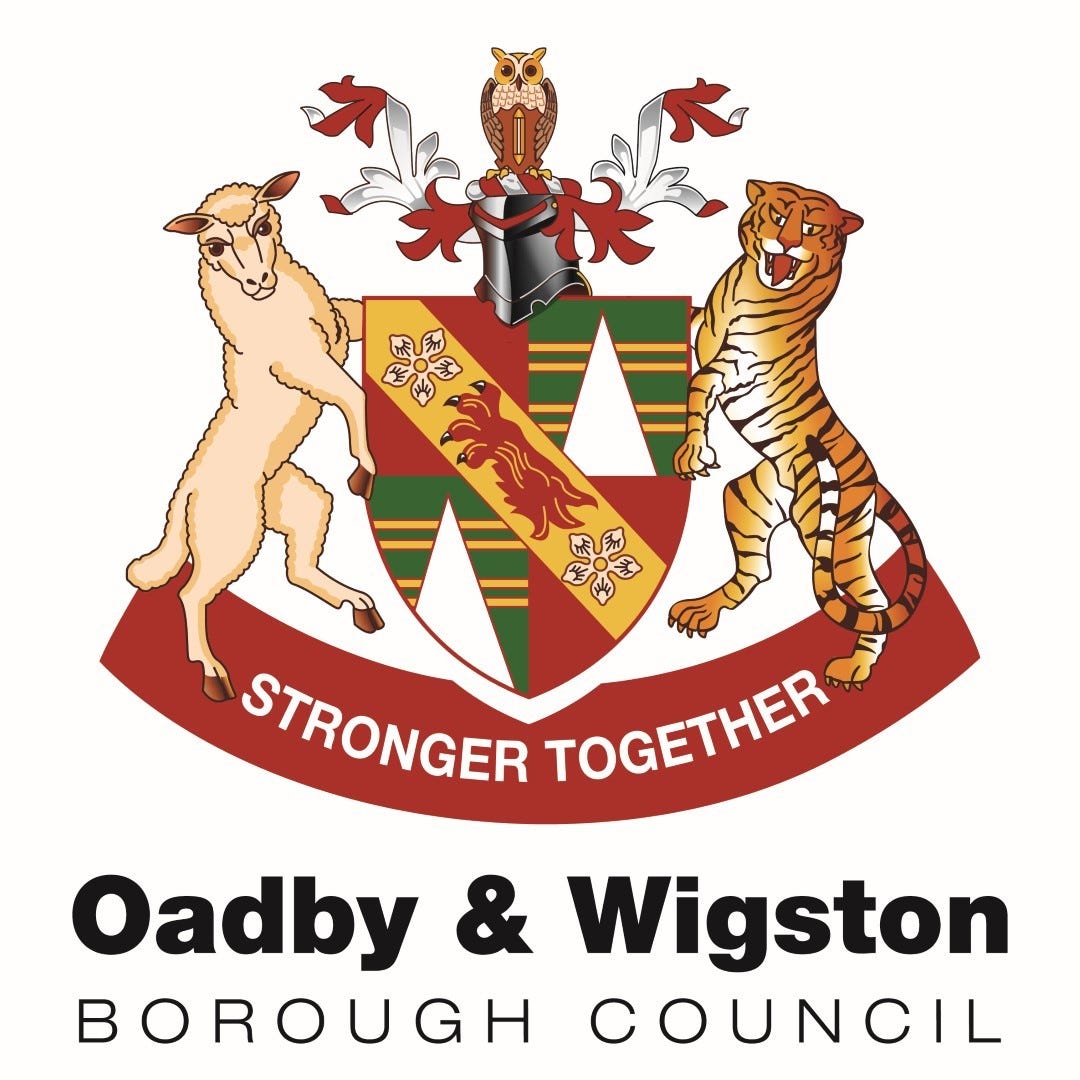 Talk To The Council
Face to face appointments with Oadby & Wigston council will be introduced in South Wigston.

Oadby & Wigston Borough Council (OWBC) customers will soon be able to request face to face appointments in either Oadby, Wigston or South Wigston.
The opportunity to book appointments comes as the council looks to enhance its customer service offer after listening to residents that completed a customer experience consultation at the end of 2022.
One of the key findings was that while the majority of customers prefer to contact the council by phone, email or by using the website, there is still a need to meet some customers face to face. From Monday 5 June, customers will be able to book appointments by telephone and then attend their allotted slot at the following locations:

Elliott Hall, South Wigston on Tuesdays
between 9 am and 12 pm
Trinity Methodist Church, Oadby on Wednesdays
between 10 am and 1 pm
King's Centre, Wigston on Thursdays
between 1 pm and 4 pm.

Visitors to the council's appointment hubs must have a pre-booked appointment.
These can be made by calling the council's customer service team on 0116 2888961.
Ruth Elliott
The world has lost a wonderful women but Heaven has gained an angel.
Our beloved Ruth Elliott has gone home to the Lord – she passed away on Friday 28th April 2023 after a short illness.


Message from family:
We wish to thank to all who attended Ruth's funeral on Tuesday 16th May at St Thomas Church and all those that made it a successful day.
Thanks again Rob and boys.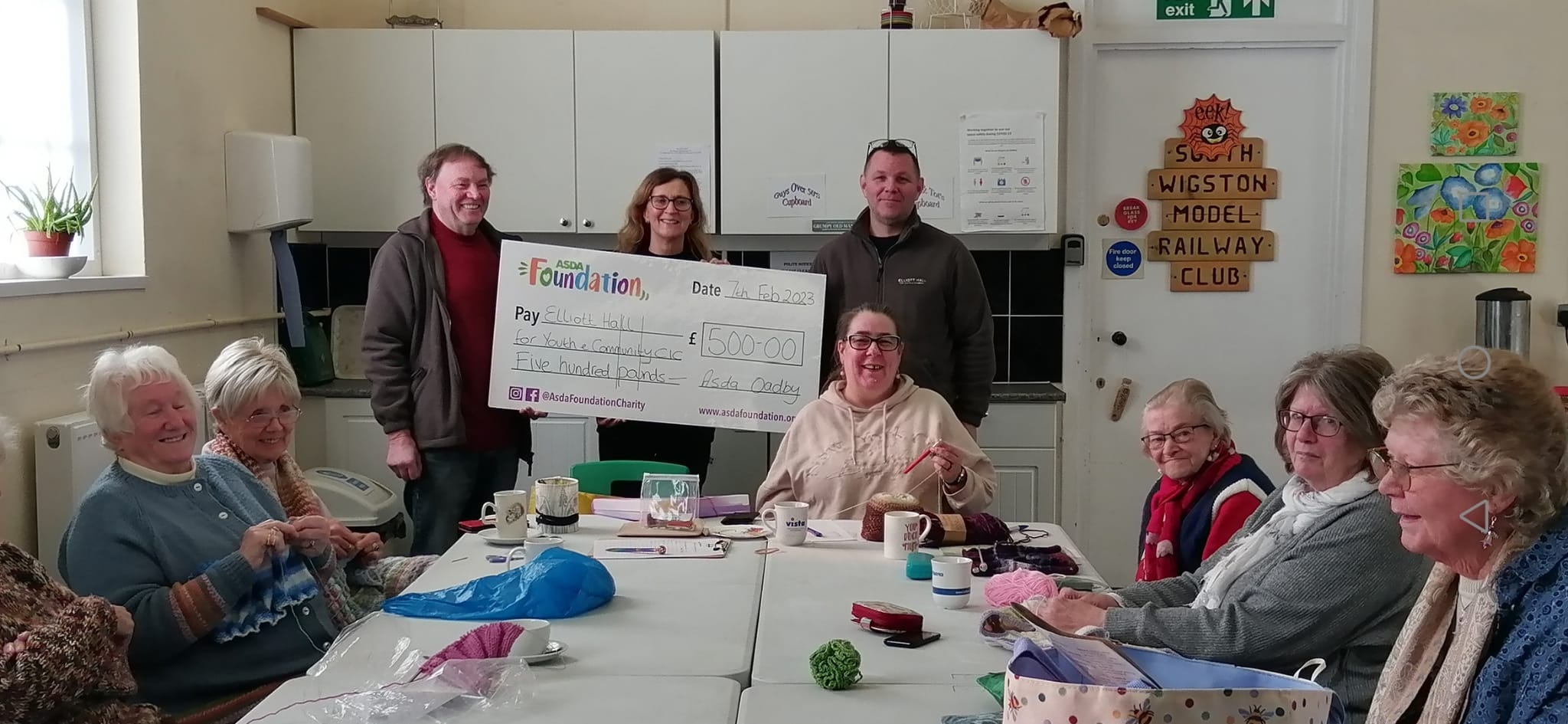 We wish to thank Asda Foundation Oadby for their kind support through their Foundation by donating £500 for supporting the activities we run for the community at Elliott Hall. Thank You.
Image was taken with our Chit, Craft,Cake group which meets every Tuesday morning, with Asda Community Champion Beth, as well as Rob & Carl from Elliott Hall.
Please read Asda Foundation press release below